As most of you know, Training Manager allows you to configure required training for your personnel. In previous versions of Training Manager, these requirements were enforced "Immediately" meaning that as soon as you added a new employee to the database and assigned them to one of the Groups or Job Roles with assignments, they would immediately show up as "Overdue" on the status reports unless they had completed the training already.
Many of you contacted us and requested an option to define a "grace period" for new hires in order to give them a reasonable amount of time to complete the training before it would appear "Overdue" on the status reports. I'm happy to announce that this option is now available in the current version of Training Manager.
Now you may set the "Initial Training Due Date" when adding an Assignment as shown in this example: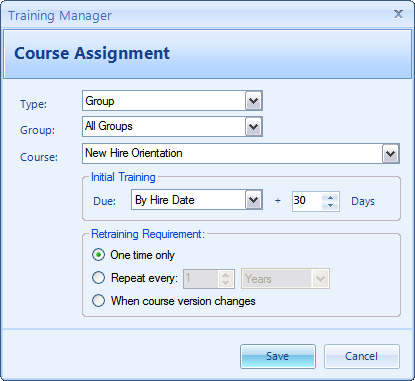 As you can see, the initial training is due "By Hire Date + 30 Days". The training status for the first 30 days will no longer appear as "Overdue". Instead, it will appear as "Untrained" if it hasn't been completed during the first 30 days. This lets you know that the training is required, but it is still within the grace period. The status will change to "Overdue" if it hasn't been completed after 30 days, otherwise, it will change to "Up to date" after it has been completed.
We hope this feature will help to make the status reports more useful for your organization. Thanks to everyone who provided the feedback leading up to this enhancement.